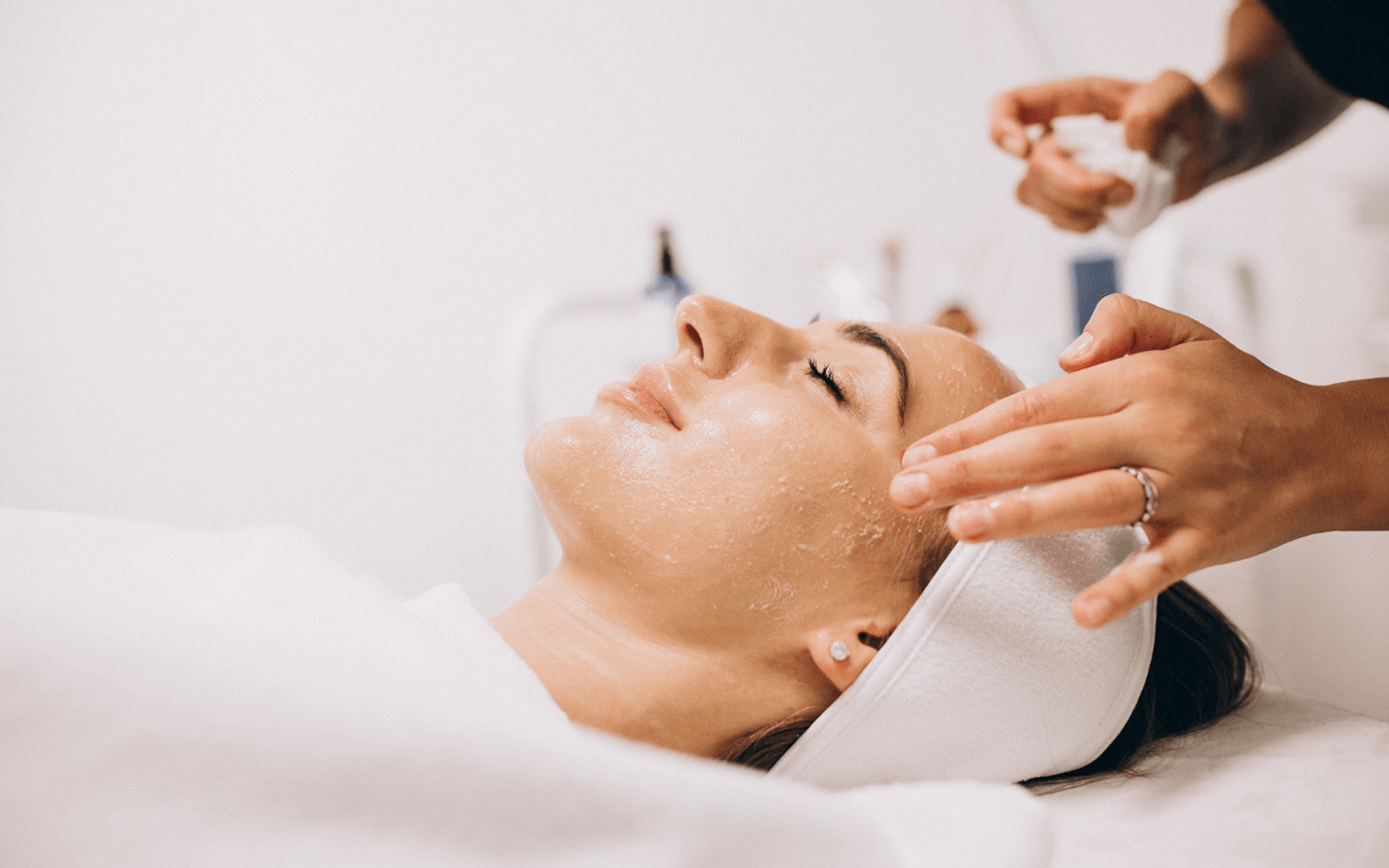 Chemical peeling
Feel beautiful in your skin
Daily skincare treatments performed at home do not always bring the desired results. If your skin still seems grey, dry and discoloured and the subsequent signs of ageing appear out of nowhere, it is time to take one step further and make a professional chemical peeling at aesthetic medical clinic.
How do the chemical peels work?
Chemical peels are substances (most often acids) used for overall improvement of facial skin condition. They exfoliate the superficial layers of the skin and stimulate its self-regeneration. Depending on the desired effect, our specialist will apply a specific preparation with active ingredients to achieve it. Certain lesions and cosmetic defects are also removed from skin during the treatment.
What is the chemical peeling procedure?
Our treatment with the use of peeling substances has triple effect: damaging, elimination and regeneration of the skin. Chemical peelings involve the use of a single- or multicomponent solution that contains specific active ingredients to support the desired effect. Also, the concentration of acids, method of application and depth of penetration are matched on a case-by-case basis.
The effects of chemical peelings
The results achieved thanks to the chemical peeling may include several areas. Depending on the preparation that is used, the results will cover:
rejuvenation and reduction of wrinkles,
cleansing,
regeneration,
brightening and reduction of discolourations,
acne treatment,
normalization.
FAQ
Who needs chemical peeling?

Indications for a chemical peeling are numerous. The treatment is particularly recommended for persons struggling with the following skin problems:

acne and associated irregularities of the skin,

scars and discolourations,

wrinkles and other signs of premature ageing,

problems with epidermis exfoliation and dry skin.

What are the contraindications?

The most common contraindications include: excessive exposure to sun, pregnancy, herpes, skin allergies, numerous moles and surgical treatments. Elimination of contraindications in each individual case will take place during the consultation visit.

How long does the chemical peeling take?

The treatment lasts approx. 60 minutes.

How many chemical peeling treatments are required for best results?

In order to enjoy optimal effects, we recommend you to have a series of 3-6 treatments performed at the intervals of 2 to 4 weeks.

How do I prepare for facial treatment with acids?

Men are usually asked to shave their face no later than 1 day before the treatment. It is also recommended to limit the use of preparations with low concentration of acids and other skin-irritating substances two weeks before the peeling. Hair removal, electrolysis, waxing or dermabrasion treatments should not be performed before the procedure.

How long does it take to recover after chemical peeling?

Depending on the preparation applied on the skin, it is possible to trigger a very strong exfoliation of epidermis that will last for several days following the treatment.
Your beauty is in hands of the professionals! Tell us about your needs and we will help you rediscover yourself.