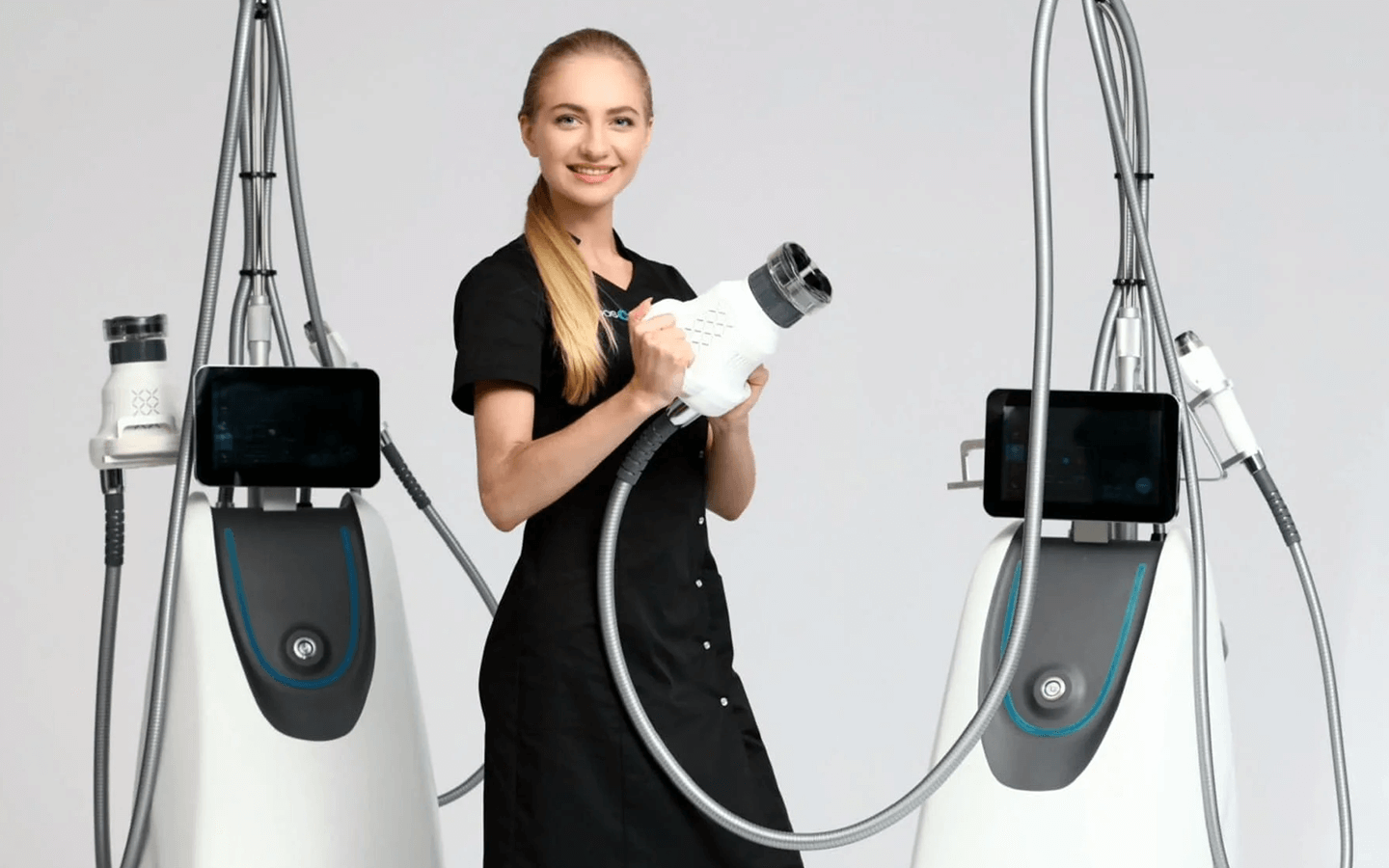 iMoos for face
Clearly defined face contour right after the first treatment!
Usually, the first signs of passing time and loss of skin elasticity become visible in the skin on the face. No wonder that many of us dream to reverse the process. Contemporary aesthetic medicine offers a wide range of options making it possible to quickly regain lost youth – one of the best currently available methods is the technology used in the iMOOS™ device.
How does the iMOOS™ work?
Significant reduction of unwanted adipose tissue and cellulite from the facial area is possible thanks to an innovative method with the use of RWT rotary head, multipolar radio wave as well as vacuum massage of the skin. So many technologies in just one device! These different methods of face modelling make it possible for many Patients to achieve spectacular results of face contouring therapy.
What is the iMOOS™ treatment procedure?
The head of a specialist device using a complex technology for reduction of adipose tissue is selectively directed onto the problematic areas of the face. The iMOOS™ thermolifting may be applied on the areas of the face, neck and cleavage. Thanks to thermal properties of the device, the collagen fibres are warmed up which makes them shrink. As a result, the skin is also stimulated to form new fibres.
iMOOS™ – results
The combined action of various technologies used in the iMOOS™ device makes it possible to achieve visible slimming and contouring effects for the entire body [tutaj odnośnik do zakładki iMoos na ciało], but also for gentle areas of the face. The expected results of this treatment include:
deep, visible lifting of the skin and improved contour of the face,
significant rejuvenation and smoothening of treated areas,
reduction of the signs of skin ageing,
lymphatic drainage by considerably improved microcirculation,
strengthening of blood vessels.
FAQ
Who needs the iMOOS™ treatment?

Our iMOOS™ treatment is recommended for persons that:

struggle with visible signs of facial skin ageing,

desire to reduce local adipose tissue,

would like to improve the condition of their skin.

Complex operation of this device makes it possible to achieve the dream results even in difficult cases!

What are the contraindications?

Contraindications to this treatment include: pregnancy and breastfeeding, tumours, any metal elements present in the area of treatment. Any contraindications concerning each individual case will be discussed with our specialist during a consultation visit.

How long does the iMOOS™ treatment take?

The treatment takes from 20 to 60 minutes.

How many iMOOS™ treatments are required to achieve the most satisfactory results?

In order to achieve full results it is recommended to have 6-12 treatments, generally once a week.

What is the time for recovery after the iMOOS™ treatment?

The treatment is very comfortable and no time for recovery is required.
Your beauty is in hands of the professionals! Tell us about your needs and we will help you rediscover yourself.