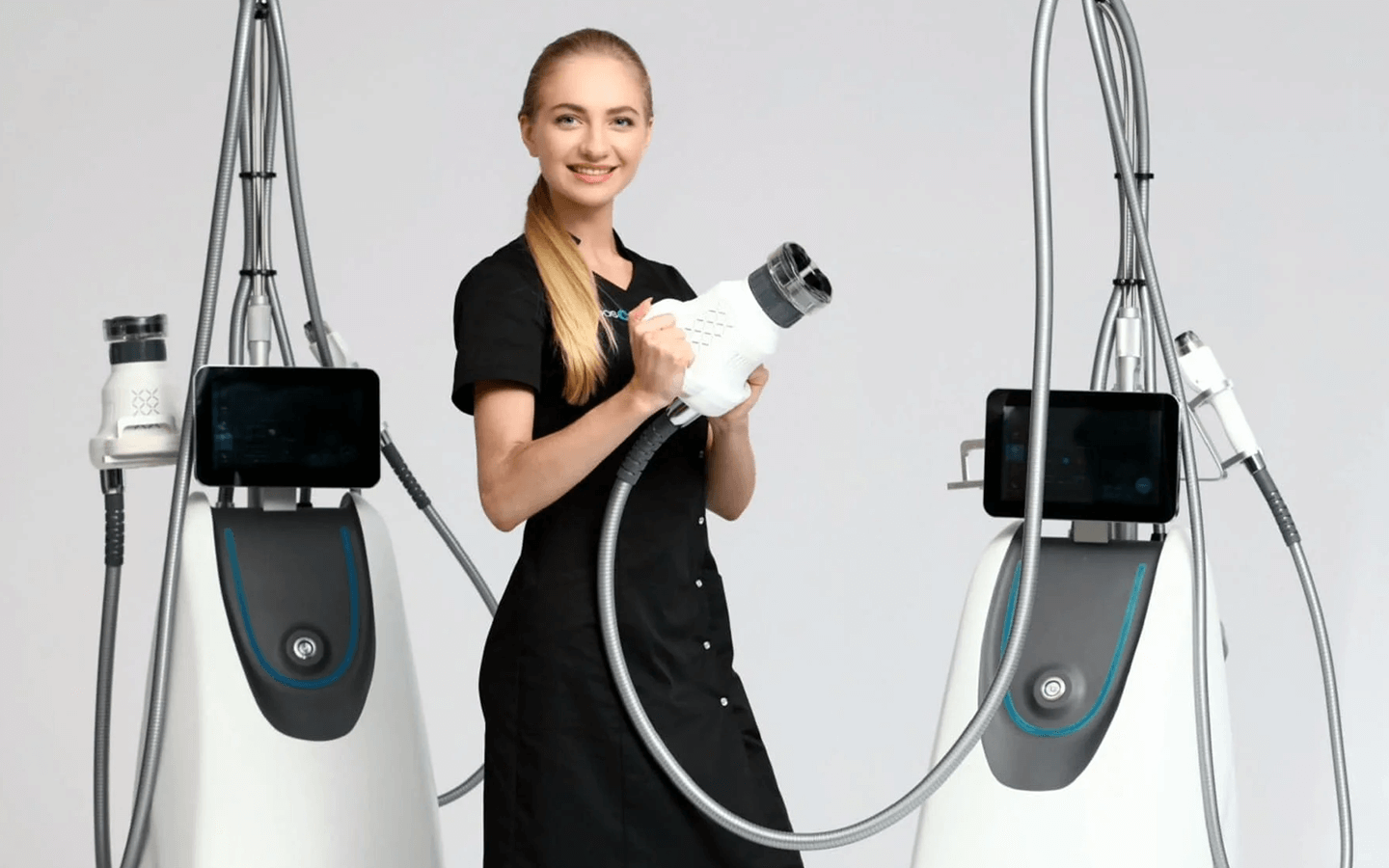 iMoos for body
New dimension of body shaping
Firm and slender body with no signs of cellulite is a desire of many people. Make this dream come true! If your previous efforts keep failing to bring the results you crave for, then consider using some support from modern aesthetic medicine and highly effective iMOOS™ treatment.
iMOOS™ – how does it work?
The innovative iMOOS™ device makes it possible to achieve the desired slimming, firming and anti-cellulite effects by using the pioneering selective systems as well as the rotary RWT head and electromagnetic waves. Result? Improved cell metabolism, effective removal of adipose tissue and its removal from the body in a natural way.
What is the iMOOS™ procedure?
The treatment is performed with the use of iMOOS™ device with a dedicated rotary head that is pressed to the Patient's body. Our cosmetologist shall set proper parameters on the device that are tailored to the individual needs and slides the head along the selected body areas while making special movements with it. The Patient may feel heat and slight tingling in the treated area. The specifics of our iMOOS™ device ensure that the procedure is carried out in comfortable and safe way.
What are the results of the iMOOS™ treatment?
Combination of many technologies makes it possible to achieve the desired results. Adipose tissue is reduced and the skin becomes significantly smoother and firmer. Vacuum massage reduces cellulite through lymphatic drainage and vacuum. Specially selected programs of the device make it possible to shape the abdomen, lift the buttocks or slim the thighs. Moreover, the procedure may also be used to contour the face areas. [odnośnik do imoos na twarz]
FAQ
iMOOS™ – who needs it?

This treatment will satisfy expectations of persons desiring to model their figure as well as improve skin appearance in the selected parts of their body. Reduction of fat tissue is non-invasive, thus the treatment is a great and safe alternative to surgical procedures.

iMOOS™ – what are the contraindications?

The contraindications include: pregnancy and breastfeeding, skin diseases and tumours.

How long does the iMOOS™ treatment take?

The treatment takes approx. 15 to 60 minutes, depending on the part of the body.

How many iMOOS™ treatments are required to achieve the most satisfactory results?

In order to achieve best results it is recommended to have 6-12 treatments at an interval of a few days to two weeks.

What is the time of recovery after the iMOOS™ treatment?

This procedure is painless and comfortable, and no time for recovery is required.
Your beauty is in hands of the professionals! Tell us about your needs and we will help you rediscover yourself.